Pine Drewyor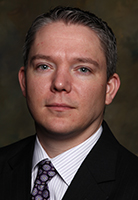 Phone: 501.376.2121
Fax: 501.376.2122
To schedule: please call our Little Rock office at 501.376.2121
Pine Drewyor is certified by the Arkansas Alternative Dispute Resolution Commission as a mediator for Arkansasí Circuit Courts. He joins our other certified mediators and arbitrators with decades of legal and judicial experience. He is a member of the Benton County, Arkansas and Oklahoma Bar Associations, Arkansas Trial Lawyers Association, Oklahoma Association for Justice and the American Association for Justice.
He graduated from the University of Arkansas at Fayetteville with a B.S.B.A in International Finance and minors in Chemical Engineering and Accounting. He then attended the University of Arkansas School Of Law, graduating in 2000.
Pine began his legal career in Fayetteville, handling family and criminal cases in a solo firm. A year later, he moved to Tulsa, Oklahoma and worked for the Tulsa County District Attorney's Office. He began work in private practice in 2002 with a medium-sized firm where his practice consisted primarily of insurance defense, medical malpractice defense, trucking and automobile insurance defense, banking and business litigation. Of his extensive case work, over 115 cases were resolved prior to trial via alternate dispute resolution, including mediation and arbitration.
In 2007, he moved back to Northwest Arkansas and opened his own firm. He changed the main focus from the defense side of cases to the plaintiff's side. He handled cases ranging from construction and heavy machinery injuries and fatalities to business disputes to family and criminal cases. He chose to leverage his extensive insurance defense background to assist plaintiffs in their personal injury cases as the majority of his practice today.
Through 2006, he has been the mediator in approximately 600 cases and arbitrator in 250.
For more information about Pine and how ADR, Inc.ís experienced, professional and reasonably priced mediators can help you, or to book mediation, call our main office Located at 1501 N. University, Prospect Building Suite 630, Little Rock, AR 72207. (501) 376-2121